Christmas Card 2010
I was really happy with my Shutterfly Christmas Card this year.  Our card let us list our reasons why we loved 2010.  We thought this was a great alternative to the traditional Christmas letter.  What do you think?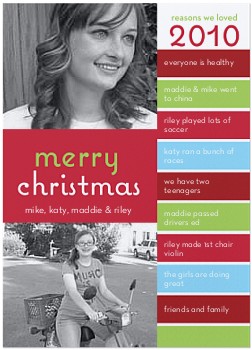 3 Comments
That is awesome! I love it…looks so professional!

I saw that one on the Shutterfly website and thought it was really cute. Love the pictures of the girls!

I used shutterfly for the fist time this year. My cards just arrived and I love how they turned out. Since I am behind, I turned it into a moving announcement/Chrismas card combo.